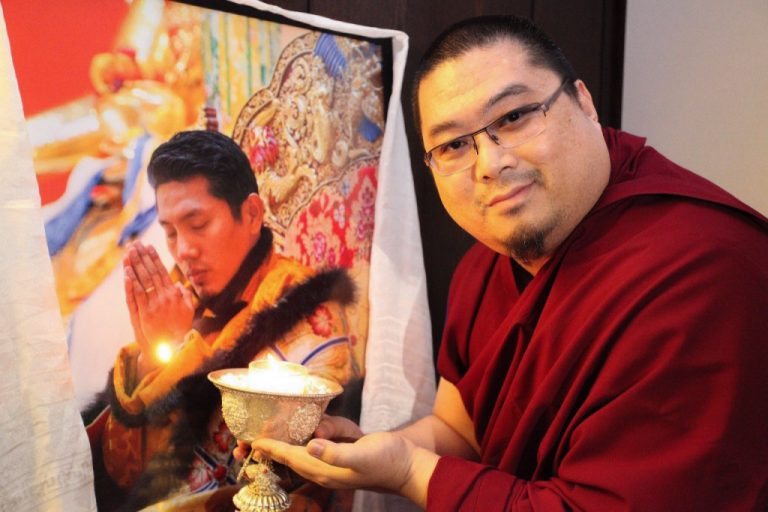 Calling the Lama from Afar
Abiding in a state of wisdom and compassion, Bodhisattvas are highly attained beings who have developed the spontaneous wish to always be of benefit to others. For this reason, they pray to be reborn in difficult circumstances, or in an environment where they can absorb the suffering of sentient beings. This is a prayer that His Eminence the 25th Tsem Rinpoche repeatedly made in his previous lives, which can be traced back to a direct disciple of Lord Buddha Shakyamuni himself.
Born on October 24, 1965 His Eminence took rebirth to fulfil the spiritual responsibilities of his previous lives and to uphold the tradition of the Buddha's teachings. Having fulfilled the role of his present incarnation, Rinpoche passed into parinirvana on September 4, 2019.
Highly attained beings will return if sincere requests are made. Compelled by compassion, they will not turn away if they see a need for them to return. To create the causes for our precious lama to take rebirth in this realm and once again continue his enlightened deeds in a new perfect form for the benefit of all, on September 5, 2019 the king of our lineage, His Holiness Kyabje Trijang Chocktrul Rinpoche composed a Prayer for the Swift Return of His Eminence the 25th Tsem Rinpoche. Other esteemed masters of our tradition have done the same.
It is now vital for all disciples, monasteries, friends around the world, and upholders of the lineage to recite these prayers and make heartfelt and fervent requests for Kyabje Tsem Rinpoche to swiftly return in an unmistaken incarnation to continue his enlightened activities in this earthly realm. These prayers should be recited strongly and often, and incorporated into your daily practices.
Upon completing the recitation of the Swift Return Prayers, H.E. Tsem Rinpoche's name mantra should be recited as usual.
The Name Mantra of His Eminence the 25th Tsem Rinpoche Tenzin Zopa Yonten Gyatso, called the 'Virtuous Bestower of 100,000 Auspiciousnesses'
ཨོཾ་ཨཱཿ་གུ་རུ་ཀརྟི་དྡྷ་ཛ་ཤ་སན་དྷ་ར་བིརྱ་སིདྡྷི་ཧཱུཾ་ཧཱུཾ།།
OM AH GURU KIRTI DATSA SHASANAH DHARA VIRYIA SIDDHI HUM HUM
Lama Drakpa Gyaltsen Tenzin Zopa Ngodrup Tsor Tsor
Click to view prayer or scroll down to see all
Swift Reincarnation Prayer
Composed by His Holiness Kyabje Trijang Chocktrul Rinpoche
Om Swasti
Gazing at all beings with compassionate attachment at all times,
Without ever wavering from illusion's sphere of Appearance and Emptiness −
To Tsongkhapa, that beacon of the Three Realms,
We all migratory beings bow with the crown of our head!
Effortlessly projecting the enlightened deeds of all Victors,
Naturally possessing unimaginable altruistic deeds,
Lovingly showing liberation's path to migratory beings,
And yet returning to the Sphere of Peace so suddenly − this is tragic.
Enacting such a vivid yet profound lesson
In impermanence, for the migratory beings of a decadent era −
And displaying such a lesson specifically for us,
Is yet again a reminder of your extraordinary life!
To be a master upholding the Sumati's legacy,
To be a refuge-source for us the destitute and helpless,
To uplift the darkness of decline hovering over the world −
May the rising sun of your reincarnation appear swiftly!
By the power of truth in the ever-reliable Three Jewels,
By all the attainments of all the yidhams and dakinis,
By the enlightened activities of the jewel-like Dharmapala,
May our scrupulous Master reincarnate swift and fast!
In short from now till quintessence Enlightenment,
May we be all sustained by you, scrupulous Master!
May all shortcomings of the three doors subside!
May all migratory beings swiftly arrive at Victor's land!

OM SWASTI!
NANG TONG GYU MEY YING LEY MA YÖ KYANG
KÜN LA JEY TSE'I THUG JEY TAG ZIG PA
KHAM SUM CHÖ KYI GYEL PO TSONGKHAPA
DAG SOG DRO WEY TSUG GI GYEN DU CHÖ
GYEL KÜN TRIN LEY DZEY ZANG MA LÜ DANG
ZHEN DÖN SAM MI KHYAB PEY NGANG TSHÜL CHEN
DRO LA JEY TSE'I THAR LAM TÖN ZHIN DU
LO BUR ZHI WAR SHEG DI KYE MA HÜ
ÖN TE NYIG DÜ DRO LA MI TAG PEY
NGANG TSHÜL SEL WEY DAM PA ZAB MO ZHIG
DAG CHAG NAM LA CHEY DU TÖN DZEY DI
MEY JUNG NAM THAR LAR YANG DREN PAR GYUR
LO ZANG GYEL TEN DZIN PEY SHEY NYEN JE
GÖN MEY NYAM THAG DAG CHAG NAM KYI KYAB
JIG TEN GÜ PEY MÜN PA SEL WEY LEY
CHOG TRÜL NYI MA ZHÖN NU NYUR JÖN SHOG
LU MEY KÖN CHOG SUM GYI DEN TOB DANG
YI DAM KHA DRÖ'I NGÖ DRUB MA LÜ DANG
CHÖ SUNG YI ZHIN NOR BU'I TRIN LEY KYI
JE TSÜN LA MEY CHOG TRÜL NYUR JÖN SHOG
DOR NA DENG NEY JANG CHUB NYING PÖ'I BAR
JE TSÜN LAMA KHYE KYI TAG KYONG ZHING
GO SUM NYE PEY TSHOG KÜN RAB ZHI NEY
DRO KÜN JANG CHEN GYEL SAR NYUR REG SHOG
COLOPHON: At sincere request to me to compose a swift reincarnation prayer made by the manager and staff members of Tsem Labrang, the combined staff and membership of Kechara House, and the community of his disciples all over the world in general on account of the sudden and sad demise of the supreme master His Eminence Tsem Rinpoche Jetsun Tenzin Zopa Yontan Gyatso, the unparalleled asset of the Gelug tradition and a long-time Dharma brother of pure spiritual bond, this impromptu prayer has been composed and written by Trijang Yeshe Gyatso in USA on September 5, 2019. May this prayer be fulfilled as wished!
A Prayer Request for the Swift Return of Tsem Rinpoche
Composed by His Eminence Drubwang Gangchen Rinpoche
From the East and the West, many faithfully connected monks and lay people, both Buddhists and non-Buddhists of many nationalities made requests for the swift return, for the tulku who has a garland of successive holy bodies in both Tibet and China, Tsem Tulku Dragpa Gyaltsen of Pukhang Khamtsen of Gaden Shartse, better known as Tulku Tenzin Zopa Rinpoche. To clear away their grief and help them to get their energy back and grant the relief of relaxation (Ngalso) for the benefit of the Buddhas' teachings and beings, in general and particular, Gangchen Tulku, member of the peace assembly of the United Nations (LGWPF UN-NGO), in the West, in Italy, in the hidden land of Gangchen Chophel Ling, Labrang, Shide Gakhyil (the Bliss Swirl of Peace) in the female Earth Pig Year of the 17th Rabjung (60-year astrological cycle) of the Tibetan Calendar on the 13th day of the 7th month which corresponds to the 11th September 2019 in the Western calendar composed this Request for the Swift Return of Tsem Rinpoche.

This upholder of the teachings of the Buddha,
Lozang Dragpa, Duldzin Dragpa Gyaltsen and Panchen Sonam Dragpa,
Supreme Emanation Dragpa Gyaltsen,
four famous aspects
We make requests and respect you as our crown ornament!
Because Dragpa Choekyi Gyaltsen, [the Renowed Banner of Victory of the Dharma] does not wane,
Tenzin Zopa, endowed with the armour of patience,
My son Tsem Tulku, truly authentic,
With unwavering courage, the thread of your lives goes and returns.
Now you must continue as a qualified successor [for] all [those beings],
Who temporarily are without [their] leader and protector.
Their hearts are fully burning with fiery tongues of anguish,
So grant them relief, you who are a lamp on the path to freedom.
Moreover, the amassed clouds of your bodhicitta mind,
That rain down the welfare of beings, now are not continuing their sustenance
[so now] , the entire harvest of well being and happiness of the religious and worldly
Must endure a time of drought [and] bad conditions.
Therefore, again, from the pureland of the dakinis, Kechara
Flaunt the festival of a new youthful [body]
A holy Form Body, suitable to appear to human eyes,
In an Emanation Body, as the friend and last resort of the teachings and beings, may [you] quickly return!
A divine body without substance can not guide [or] benefit beings,
Courageous goodness [you] must be holding fast on a sky lion!
Samaya keeping Lama Tsem Tulku Rinpoche!
Supreme Emanation, beloved Heart Jewel may you swiftly return!
By the inseparability of Gurus and Buddhas, fathers and sons,
Holder of the teachings and all dharma protectors!
Vast like the wish-fulfilling tree
may [blessings] be piled up like a heap of mustard seeds!

SANG GYE LO ZANG DRAG PEY TEN DI LA
DÜL DZIN DRAG GYEN PENCHEN SÖNAM DRAG
CHOG TRÜL DRAG GYEN DRAG PA NAM ZHI LA
SÖL WA DEB SO CHI WO'I GYEN DU CHÖ
DRAG PA CHÖ KYI GYEL TSHEN MI NUB CHIR
TEN PA DZIN LA ZÖ PA'I GO CHA CHEN
MING DÖN TSHUNG PA TSEM TRÜL NGA YI BU
MA YENG NYING TOB KYE LA DA TSHUR JÖN
DA DUNG KHYÖ KYI KYONG Ö JEY JUG KÜN
NEY KAB LAM TÖN GÖN DANG DREL WEY NA
WUG JIN THAR LAM DRÖN ME SU LA RE
NYING LA DUNG WEY ME CHE RAB TU BAR
MA ZEY KHYÖ KYI SEM KYE TRIN PHUNG LEY
DRO DÖN CHAR GYI DA MÜ MA KYANG NA
CHÖ SI PHEN DE'I LO TOG YÖ TSHE KÜN
KYEN NGEN THEN PEY CHOM TSHE JI TAR ZÖ
DE CHIR LAR YANG DAG PA KHA CHÖ NEY
LANG TSHO SAR PEY GA TÖN NGOM PA ZHIN
CHU BUR MIG LA NANG RUNG ZUG KYI KU
TRÜL KU TEN DRO'I PUNG NYEN NYUR JÖN SHOG
CHÖ DANG MI YI THOB THANG TSANG MA'I CHIR
TEN SI LA GYA DEG LA PA WA KHYÖ
DZEY PA RE RE'I MING NEY JÖ NÜ DREL
LAR YANG JUG DE KYONG CHIR NYUR JÖN SHOG
LHA KU'I SOB LA MI DREN DRO DÖN DU
SENGGE NAM LA CHONG DRA'I POB PA GE
DAM DEN LAMA TSEM TRÜL RINPOCHE'I
CHOG TRÜL NYING GI NOR BU NYUR JÖN SHOG
NYI MEY SANG GYE LAMA YAB SEY KYI
TEN PA DZIN PEY TEN DZIN KYE BU KÜN
PAG SAM JÖN PA ZHIN DU KHYÖN YANG SHING
TIL GYI GANG BU ZHIN DU GANG WAR SHOG
COLOPHON: This Tsem Tulku Dragpa Gyaltsen of Gaden Shartse Pukhang Khamtsen who was better known as the Supreme Tulku Tenzin Zopa Rinpoche, from the time of his youth, had a guru-disciple relationship with unsullied, unbroken vows. Generally [because of] the ultimate emptiness of the dharma and politics, [his] extensive enlightened activities, prayers and aspirations ripened on time, [and this] creates unsurpassable rejoicing. Furthermore, [I] humbly request that the father guru-sugatas, the fathers and sons of the continuous lineage, grant at this time the gift of an outstanding excellent re-birth. Recently others urged [me] to write this request and also myself I would like to compose this supplication for the tulku's swift return, may there be the gift of continuous excellent perfection right now!
Composed by TYS Lama Gangchen Rinpoche, and translated by Lama Caroline Gammon.
Invitation to a Youth Bedecked in Garland of Buddha's Dharma: A Swift Reincarnation Prayer
Composed by His Eminence Kyabje Zemey Chocktrul Rinpoche
The Manjunath Master who was accomplished in oceanic qualities
Of the Ten Attributes, and armed in the armour of besting
Dharma-Holder waves in both reasoning and citation: I bow in obedience
To the supreme spiritual master who was alike this Manjunath!
The supreme realm of primordial Natural Purity;
The realm beyond samsara suffused by immaculate Suchness;
The realm wherein are thousands of Buddhas and Bodhisattvas:
What need was there for the Dharma Master to go there?
A Victor you are in the warfare over four maras.
And giving up the impermanent body all of a sudden,
As if to recoil by intent into the peace of cause and effect:
Isn't this relinquishing your intent to uplift entirely the Dharma and migraters?
This too is but consistent with the destiny of migratory beings:
Else what recourse is open to cause and effect's ultimatum?
By the force of your everlasting love toward the Dharma and migraters,
Emit soon the rays of the sun, from the east, of your re-incarnation.
From the path, of lotuses, of samsara and nirvana refined into Dharmakaya,
From amongst flowers of the lotus pond, undefiled and pure and clean,
You, the Dharma-upholder, whose radiant visage is imprinted upon the mind:
Come hither and swiftly to dispel the pains of fortunate ones!
Invulnerable though your life is to adversaries' assaults,
And though at times discarding one's deceptive body as a means
To discourage grasping at the transitory as enduring is allowable,
Pray come soon, to illuminate, the profound sutras and tantras.

LUNG RIG LAB TRENG ZUNG GI TEN DZIN THAR CHING WEY
ZÖ PA'I GO CHA CHEN GYI JAM GÖN LAMA YI
CHU TRAG YÖN TEN GYA TSHO'I ZAB MO CHI MI DRA
PEL DEN LAMA CHOG LA GÜ PEY CHAG TSHEL LO
DE CHEN MI GYUR DÖ NEY RANG ZHIN NAM DAG GI
DRI MEY CHÖ NYI TIB PEY KHOR DEY ZHING CHOG DER
PHAG CHOG THUB WANG ZHAB DANG GYEL SEY TONG ZHUG KYANG
CHÖ JE PEL DEN KHYE NYI DE NA PHEB DÖN CHI
CHIR NA GÖN KHYE YÜL GYI DÜ ZHIR GYEL WA DANG
TEN DREL ZHI WAR NEL WEY THUG KYE NGANG TSHÜL DU
LO BUR MI TAG LÜ LA DREL WEY NAM THAR DI
TEN DRO'I DÖN KÜN KHUR ZHEY THUG KYE DOR MIN NAM
ÖN TE DI YANG DRO WEY KEL WAR JEY SONG WA
TEN GYI DREL WEY THA LA DOG TU CHI ZHIG YÖ
ZHAR YANG TEN DRO'I DÖN CHEN DOR MEY JEY TSE YI
YANG TRÜL SHAR GYI NYI ZHÖN NANG WA NYUR DU TRÖ
SI ZHI YING SU TÜL WEY DAB GYA'I PEY TSHEL LAM
MA MEY PE MA'I DZING BU DAG CHING TSANG WEY WÜ
SEL NANG YI LA CHAG PEY TEN DZIN PEY KAR KHYE
KEL DEN DUNG SEL DÖN LA NYUR DU JÖN SHOG KYE
KU TSHER SHEY KYI GÖL WA MEY KYANG DÜL JA YI
MI TAG TAG DZIN DOG PEY THAB KYI NGANG TSHÜL LA
KÜN DZOB LÜ PHUNG DOR WEY KAB RE YÖ SI KYANG
DO GYÜ ZAB DÖN JEY CHIR KU NYI NYUR JÖN SHOG
COLOPHON:
This invocation has been composed by Zemey Tulku with fervent prayers as requested by the personnel of Tsem Labrang and staff members of Kechara Centre as a whole. May this aspiration be fulfilled.
September the 8th, 2019
A Sage's Voice of Truth: A Swift Reincarnation Prayer
Composed by His Eminence Lama Thubten Phurbu Rinpoche
Suddhodana's Prince, unacquainted universal friend of all migratory beings:
With lassos strong as a mother's deep love you draw out
The migratory beings of the six realms from suffering.
I implore you for a wish with a heart unaffected and intense in grief.
Svarswati, goddess of lyrics and mother of a thousand Enlightened Ones,
Whose stunningly beautiful visage bespeaks of a white lotus in robust bloom,
And awash in the bright and shimmering radiance of a moon in full phase:
Bestow here that boon which floats only in a thousand divine voices.
That system, that view of the Manjunath, that very essence of the Victor's Teaching (Ten):
This legacy he upheld (zin) without hesitation allying only with forbearance (Zopa) itself;
He was the leader with qualities (Yontan) that swayed, and were vast, as the ocean (Gyatso).
I invite you to dwell in the lotus pond of my heart as its preeminent component.
The Source of Cool Silvery Light that sustained the very essence
Of the Victor's Teaching − darkness assailed it with malicious intent and act,
Time and again, without respite, and beyond limits. It has now moved
To a more peaceful orbit and realm, assailing both our minds and hearts with grief.
Wonderful indeed it is to be reunited with your spiritual fathers and their sons,
And to engage with them in salubrious occasions in divine Tushita's realm.
Can one dare, nonetheless, to discard the avowed intent, avowed indeed before the Buddhas
Of the ten directions, to release migratory sentient beings from destitution?
In the interest of the stainless legacy of Manjugarva the spiritual liberator,
For spiritual leadership to beings to be tamed countless as sand particles of this vast earth, Come soon as the Lord with Seven Horses,1 return as a reincarnation who befits the name, To give life to the lotus pond of the Teaching and migratory sentient beings.
To the Sun's Relative2 and Manjugarva the supreme master,
To Heruka and the ishtdevta3 Yamantaka, to Dharmapala Shugden and his assembly
Of divinities − guardians of our direct and indirect lineage masters:
Bestow forth with ease the beneficial outcome we seek through this prayer.
1 The sun god; sun.
2 Epithet of Buddha Shakyamuni.
3 Meditational deity.
MA DRI DRO WEY TSA LAG ZEY TSANG GI SEY PO
MA TAR TSE WEY TSHEY MEY THUG JE YI ZHAG PEY
RIG DRUG DRO DI DUG NGEL GYA TSHO LEY DRÖL WEY
CHÖ MIN DUNG SHUG DRAG PÖ SÖL DEB SHIG ZHU-O
RAB DZE YI TROG PEMA KAR PO YI ZHEL REY
RAB KAR DA TSHEY SAR WEY DZE GYEN DU CHANG WEY
RAB JAM GYEL WEY YUM CHIG DRA YANG KYI LHA MÖ
RAB NYEN TSHANG YANG TONG GI NGÖ DRUB DE TSÖL DZÖ
THUB TEN YANG NYING JAM PEL NYING PO YI ZHEY ZHUNG
DZIN LA ZHUM MEY ZÖ PEY GO CHA YI DAG NYI
MEY JUNG YÖN TEN GYA TSHO TEN DRO YI GÖN PO
NYING WÜ PEY TSHEL GYEN DU DREL MEY DU ZHUG DZÖ
TSHÖ MEY SAM JOR NGEN PEY DAM NYAM KYI PUNG GI
YANG YANG TSEY PEY JIG RUNG MÜN NAG GI LONG NEY
GYEL TEN YANG NYING KYONG WEY Ö KAR GYI DAG PO
ZHING ZHEN SHEG DI YI SEM KYO DUNG GI NAR SONG
GA DEN ZHING DU KYAB JE YAB SEY KYI ZHAB DRUNG
LHEN DZOM DZOG DEN TONG GI PEL YÖN DE LEG KYANG
CHOG CHU GYEL WEY CHEN NGAR NYAM THAG GI DRO WA
DRÖL WEY THUG KYE RANG GAR DOR WA DE PHÖ DAM
NAM DREN JAM PEL NYING PO'I DRI DREL GYI TEN DANG
SA CHEN DÜL LA DREN PEY DÜL JA YI GÖN DU
MING DÖN THÜN PEY YANG TRÜL TA DÜN GYI WANG PO
TEN DRO PEY TSHEL SÖ SU NYUR WA RU PHEB ROG
NYI MA'I NYEN DANG JE TSÜN JAM PEL GYI NYING PO
HE RU KA DANG YI DAM SHIN JE YI SHEY PO
NGÖ GYÜ LA MEY KA SUNG SHUGDEN GYI LHA TSHOG
GANG MÖN DE LAG DRUB PEY GE TSHEN DE TSÖL DZÖ
COLOPHON: His Eminence Tsem Rinpoche, whose personal name Tenzin Zopa Yontan Gyatso cannot be mentioned with an appreciation and reverence equal to the dedication and hard work that he gave to serve the Buddha's teachings in general and Manjunath Tsongkhapa's teachings in particular, has recently passed into the sphere of Dharmadhatu. We all feel a very deep sense of loss over his transition. I have received a request from Rinpoche's centre along with ceremonial scarf and token offering urging me to write a swift return prayer invoking the swift birth of His Eminence's reincarnation. In compliance with their suggestion and with a profound sense of loss I − who is called a reincarnation of Je Khetsun Yontan Gyatso – and who is a student of Je Kagyurwa our spiritual father, have composed this swift reincarnation prayer titled A SAGE'S VOICE OF TRUTH.
September the 7th, 2019
Dawn Lights of Faith Inviting Reincarnation's Sun: A Swift Reincarnation Prayer
Composed by His Eminence Anor Tulku Ngawang Losang Choekyi Gyaltsan
Master Losang Dragpa who is the great Vajradhara;
Herukas Dechen Nyingpo and Trijang Rinpoche:
May our root and lineage masters of the master as you wish,
Grant us a hundred blessings of supreme and common attainments!
Deep indeed is our sorrow at the sudden demise
Of Tsem Rinpoche, the full manifestation
Of all the qualities and blessings of body, speech and mind
Of Zongtrul Dorjechang, the upholder of the Hearing Lineage.
In every successive rebirths nevertheless, each your incarnation has been
But a life that was the personification of the Gaden Teaching.
This show of discarding one's gross body therefore,
Is for nothing else but Lobsang's Hearing Lineage.
In whom the roots of the Three Principals Aspects of the Path are firmly rooted;
In whom the branches n' leaf of realisations in the Two Stages are sturdy and rich;
And the pollen and flowers of the Four Bodies are brightly abloom:
Joyfully continue yet still to revel in the Dharma and migratory beings' cause!
In the vast azure firmament of our faith and pure commitment,
May the new sun of the Twenty-seven Enlightened Activities of your mind,
Appear from the eastern sky of our karma and aspirations!
May in this the Dharmapala, that sovereign of powers, lend his help.

DORJE CHANG CHEN LAMA LO ZANG DRAG
DECHEN NYINGPO TRIJANG HERUKA
NGÖ DANG GYÜ PEY LA MA'I LAMA YI
CHOG THÜN NGÖ DRUB JIN GYA CHI GAR TSÖL
NYEN GYÜ TEN DZIN ZONG TRÜL DORJE CHANG
KU SUNG THUG KYI YÖN TEN JIN LAB KÜN
MA LÜ CHIG PUNG TSEM TRÜL RINPOCHE
LO BUR ZHING SHEG KYE MA KYI HÜ JIN
ÖN TE KHYE KU RIM JÖN GA DEN TEN
KHO NA'I NAM THAR BUM DU TAR WA NA
KU ZUG RAG PA PONG WEY NANG TSHÜL DI
WEN SA NYEN GYÜ TEN LEY ZHEN DU CHI
NAM DAG LAM TSO SUM GYI TSA WA TEN
MEY JUNG RIM NYI NYAM TOG YEL DAB NÖL
PHÜL JUNG KU ZHI'I ZE'U DRU YONG MIN PEY
DA DUNG TEN DRO'I DÖN DU TSE GA RÖL
DAG SOG DAM TSANG DEY PEY KHA YING NGÖ
KHYE THUG TRIN LEY NYER DÜN NYIN JEY WANG
LEY MÖN SHAR RI TSE NEY CHAR WA LA
TEN SUNG WANG GI GYEL PÖ DONG DROG DZÖ
Dedication
GANG GANG TRÜL GYI DEB TU PHAB PA PÖ
KEL ZANG ZHEY JEY NGEL WEY DU JEY PEY
GE DI MA GYUR DRO WA MA LÜ PA
KÜN KHYEN GYEL WEY GO PHANG THOB GYUR CHIG
COLOPHON: Tsem Rinpoche has dedicated himself throughout his life to uphold and spread in general the teachings of the Buddha, in particular the dual sutra and tantra teachings of the Yellow Hat School and specifically the Wensapa Hearing Lineage superbly transmitted through the Kyabje Rinpoches and their spiritual sons. Rinpoche has done these in exemplary manner with exceptional courage of body, speech and mind. I have seen these for myself and have heard about these from others. This being the case, when numerous online requests came to me from various direct and indirect disciples of Tsem Rinpoche urging that I compose a prayer for Rinpoche's swift reincarnation, in response to these requests I, who goes by the name of Anor Tulku Ngawang Losang Choekyi Gyaltsan, have composed this prayer without cutting any corners.
The Hearing Lineage Garden
September 2019
A Sage's Call on Truth: A Swift Return Prayer
Composed by His Eminence Khen Rinpoche Jhampa Khetsun
Lord of Shakya, the unfailing teacher;
Paths and Cessations, the unfailing teaching;
Assembly of knowledge and liberation, friends unfailing:
To these Three Supreme Ones I bow in obeisance.
The pentad elements of a degenerate time, employed
With crude means to 'support' the Victor's teaching −
The master who with Forbearance took these all into his stride,
And prevailed over these elements: I bow to this ocean of qualities.
In the endeavour to the Victor's Teaching (Ten) by upholding it (zin), Forbearance (Zopa) was
Your protection wall; in engaging with and winning over critics, the full-fledged
Qualities (Yontan) you possessed were your means of choice; so far as oceans (Gyatso) reach,
To that extent your four enlightened activities have reached: you are truly worthy of high acclaim.
To the rising sun the radiance of your person was a fitting counterpart.
The sudden unexpected exit of that form to another realm,
Have caused endless waves and wavelets of grief in the ocean
Of the hearts and minds of your students throughout the world.
Your body is beyond the bounds of birth and death.
Perchance the mind could penetrate through this play
Of enacting Death to underscore Impermanence,
What more profundity is to be discovered in sublime Dharma?
For the long term benefit of all your students now without a guide,
May the spiritual guide once again appear as a new rising sun,
As a guide and protector for us one and all in this world!
May your reincarnation appear swiftly and unmistaken!
Suddhodana's Prince, the master Jetsun Tsongkhapa, the assembly
Of divinities of the four classes of tantra in forms peaceful and fierce,
And by the blessings of the Assemblies of the sacred Sangha,
May this aspiration of your students and centre be swiftly fulfilled!

LU MEY TÖN PA SHAKYA'I GYEL PO
LU MEY TEN PA GOG LAM NGO WO
LU MEY DA DROG RIG DRÖL NGA DAG
LU MEY CHOG SUM CHI TSUG TU CHÖ
NYIG MA'I DÜ DIR THUB PEY TEN PAR
NYIG NGA DROG SU TEN PEY JOR TSUB
NYIG MA'I GÜ DANG ZÖ PEY YÜL DZEY
NYIG NGA ZIL NÖN YÖN TEN GYA TSHO
THUB TEN YANG NYING DZIN CHING PEL WAR
ZÖ PEY MU KHYÜ PHEY GÖL ZIL NÖN
YÖN TEN KÜN DZOG TRIN LEY NAM ZHI'I
GYA TSHO'I GÖ CHEN KHYÖ LA TÖ DO
NYI ZHÖN LA DREN KHYÖ KU'I TSHEN PE
LO BUR ZHING ZHEN SHEG PEY TSHÜL DI
LOB TSHOG KÜN GYI YI SEM NYA NGEN
GYA TSHO'I BA LAB CHEL CHIL RAB YO
KHYE KYI KU LA KYE CHI MI NGA
PHEL PEY NANG NGOR MI TAG DREN KÜL
NYA NGEN DA TSHÜL TÖN DI POG TSHE
DAM PEY CHÖ ZHE DI LEY GANG ZAB
GÖN MEY LOB TSHOG KÜN GYI TEN DÜ
GÖN PO GANG NYI LAR YANG DAG SOG
GÖN KYAB NYI ZHÖN LAR YANG SI DI'I
GÖN DU TRÜL DREL YANG SI NYUR JÖN
ZEY TSANG SEY DANG JAM PEL NYING PO
GYÜ DE ZHI DREL ZHI TRO'I LHA TSHOG
GE DÜN DÜ PEY JIN LAB LA TEN
LOB TSHOG DÖ DÖN DRUB PAR GYUR CHIG
COLOPHON: On September 4, 2019 Kyabje Tsem Rinpoche, whose personal name Jetsun Tenzin Zopa Yontan Gyatso is hard to mention in a manner proportionate to the service he rendered for the Buddha's legacy, suddenly passed away into peace. Upon learning about the master's transition, the entire Sangha community at this monastic Seat feels a very deep sense of irreplaceable loss. Moved by the noble being's enlightened deeds, I have composed this prayer on the spot for the swift return of his reincarnation.
Geshe Jhampa Khetsun
Abbot
Serpom Monastic Seat, India
September, 2019
Composed by Most Venerable Geshe Tsultrim Tenzin
NAMO! I pay homage to the spiritual master!
The kind master who has protected us with loving kindness and love:
Your sudden departure into the Sphere of Dharmakaya
Has overwhelmed your disciples' heart with pain and grief.
May a supreme reincarnation come to dispel the destitute's suffering
Who will lead them on the path to Liberation!
To all spiritual masters, yidhams and dharmapalas without exception,
We pray from the bottom of our hearts.
May the content of our prayer be fulfilled just as we hope.
NAMO LAMA LA CHAG TSHEL LO
DAG CHAG JAM TSEY KYOB PEY DRIN CHEN JE
LO BUR CHÖ YING KHAM SU SHEG PA YI
LOB BUR NYING NEY MI ZÖ DUG NGEL NEN
NYAM THAG DUG NGEL SEL WEY CHOG TRÜL ZHIG
JÖN NEY THAR PEY LING DU TRI PAR SHOG
LAMA LHA SUNG KYAB CHOG MA LÜ LA
NYING KHONG RÜ PEY TING NEY SÖL DEB NA
MÖN DÖN JI ZHIN MA LÜ DRUB PAR SHOG
September the 9th, 2019
The Arising Sun: A Swift Reincarnation Prayer
Composed by Venerable Geshe Lobsang Choedar
The three supreme Victors − Lord Losang Dragpa and his two heirs,
The Three Bodhisattvas named Dragpa, and the master Phabongkha,
The Buddhas in the flesh, who are the masters Trijang and Zong Rinpoche,
We call upon you with this prayer: bestow upon us the kind blessing
That Tsem Rinpoche's reincarnation comes swiftly!
Guhyasamaj, Heruka Cakrasamvara and Hevajra,
Vajrabhairav, the supreme among the supreme,
To the countless deities of four class of tantras,
We call upon you with this prayer: bestow upon us the kind blessing
That Tsem Rinpoche's reincarnation comes swiftly!
Assemblies of Buddhas, Bodhisattvas, sravakas and pratyekbuddhas,
Heroes, dakinis, and oceanic Dharma guardians,
And in particular Dorje Shugden and Setrab,
We call upon you with this prayer: bestow upon us the kind blessing
That Tsem Rinpoche's reincarnation comes swiftly!
May the reincarnation who comes be a noble being,
May he be a supreme being: scholar, scrupulous practitioner, a kind person,
May he be unmatched in expounding, debating and writing
On the Tripitaka, and the four classes of tantras:
A supreme reincarnation who is a young rising sun.
In all our lives, may we partake of the bounty of Dharma,
While we are always guided by genuine spiritual masters.
Completing perfectly the qualities of the grounds and paths,
May we swiftly attain the state of Vajradhara.

GYEL CHOG LO ZANG DRAG PA YAB SEY SUM
GYE SEY DRAG PA NAM SUM PHABONGKHA
GYEL WA KÜN NGÖ TRIJANG ZONG CHOG TRÜL
GYEL WA NGÖ DANG GYÜ PAR SÖL DEB NA
JE TSÜN LA MA TSEM TRÜL RINPOCHE
YANG SI NYUR DU JÖN PEY JIN LAB TSÖL
SANG WA DÜ PA DE GYE HERUKA
PEL CHEN DORJE JIG JEY LA SOG PA
DRANG MEY GYÜ DE ZHI-YI LHA TSHOG KYI
JE TSÜN LA MA TSEM TRÜL RINPOCHE
YANG SI NYUR DU JÖN PEY NGÖ DRUB TSÖL
SANG GYE JANG SEM NYEN RANG PHAG PEY TSHOG
PA WO KHA DRO TEN SUNG GYA TSHO DANG
KHYE PAR DORJE SHUGDEN SETRAB KYI
JE TSÜN LA MA TSEM TRÜL RINPOCHE
YANG SI NYUR DU JÖN PEY TRIN LEY TSÖL
KHE TSÜN ZANG SUM DEN PEY KYE BU CHOG
DE NÖ SUM DANG GYÜ DE ZHI-YI DÖN
CHEY TSÖ TSOM LA DREN DA MA CHI PEY
CHOG TRÜL NYI ZHÖN SAR PA NYUR JÖN SHOG
KYE WA KÜN TU YANG DAG LA MA DANG
DREL MEY CHÖ KYI PEL LA LONG CHÖ CHING
SA DANG LAM GYI YÖN TEN RAB DZOG NEY
DORJE CHANG GI GO PHANG NYUR THOB SHOG
COLOPHON: Jetsun Tenzin Zopa Yontan Gyatso, the master who was the 25th in the reincarnation lineage of Tsem Rinpoches, was an unexcelled illuminator of the Dharma. He enacted the role of dissolving his form body into the sphere of Dharmakaya to demonstrate impermanence to sentient beings to be tamed who cling to permanence. The grief I felt was unbearable. It moved me to write this short invocation praying for his swift reincarnation. Composed in India by a Geshe with the name Lobsang Choedar this 20th of September 2019.