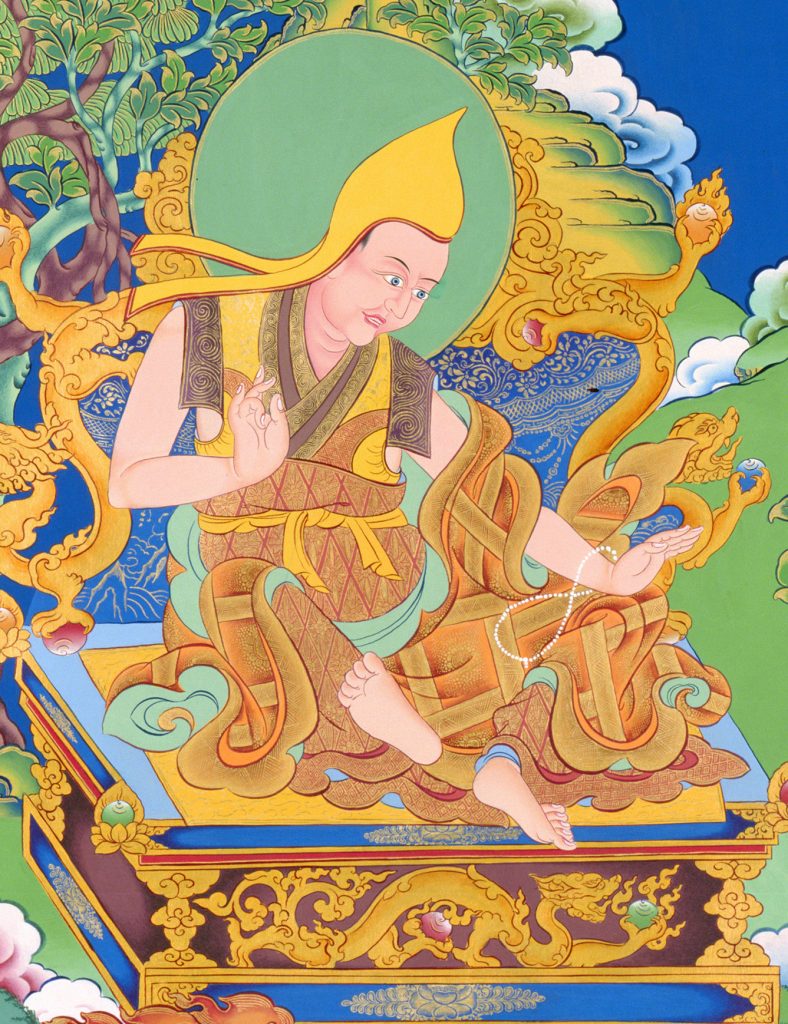 Whilst countless beings throughout history have shown remarkable attainments as a result of practising the Dharma, few in Tibetan Buddhism have reached the same level of renown as Panchen Sonam Drakpa. The 17th in an illustrious line of incarnations, one has to be forgiven for thinking that by this point, it would not be easy to achieve, and even surpass, the same great heights as his accomplished predecessors. And yet, Panchen Sonam Drakpa proved otherwise.
Born in 1478 in Central Tibet, this incarnation received his novice monk vows and his ordination name Sonam Drakpai Pel before enrolling in nearby Tsetang Monastery. There, the young boy first showed signs of the great scholar he would become, excelling in his early education which included reading, writing, and the rigorous daily memorisation of prayers and important scriptures.
Sonam Drakpa then furthered his education in a number of monasteries, including Sera Monastery where he studied for 12 years. During this time, he mastered the five major philosophical treatises required for candidates of the Geshe Lharampa degree, the highest academic accolade awarded in the Gelug tradition. He was 20 when he received his full monastic vows and seven years later, he enrolled in Gyutö Tantric College, where he mastered all tantric systems.
After a visit to Tsetang Monastery, where he was awarded the title "Rabjampa" (meaning "One with Unobstructed Knowledge") in recognition of his dialectical skills and scriptural knowledge, Sonam Drakpa then returned to Gyutö. There, he was appointed to the prestigious post of lobpon, in essence selected to become the lead ritual master of an entire college full of accomplished ritual practitioners.
This would mark the start of a series of highly prestigious appointments for Sonam Drakpa. Respect for his practice, scholarship and mastery of the sutras and tantras was so universal, that there was unceasing demand for his leadership and guidance throughout Tibet. After 13 years as lobpon, Sonam Drakpa retired from his post and the following year, His Holiness the 2nd Dalai Lama appointed him as abbot of Drepung Loseling Monastery. The 2nd Dalai Lama was so moved by Sonam Drakpa's qualities, that he even composed a prayer in praise of him.
Upon completion of his term as abbot, Sonam Drakpa then rose to the position of Gaden Throneholder, becoming the 15th Gaden Tripa and head of the Gelug tradition. When he ascended the throne, he recited:
May all conducive conditions arise
and all obstacles be pacified,
in order to increase infinitely,
the doctrine of the spiritual king, Tsongkhapa.
Later, at the Great Prayer Festival (Monlam Chenmo) in Lhasa, which was one of Tibet's biggest religious ceremonies, he recited:
By the merits of the three times
of myself and others,
May the doctrine of Lama Tsongkhapa
blaze forever.
These two verses are known as the "Prayer for the Virtuous Tradition" and form an essential part of the dedication prayers recited by all Gelug practitioners up until the present day.
At the end of his term as the Gaden Tripa, Sonam Drakpa retired and settled in Gaden Monastery. If he had entertained thoughts of a quiet retirement however, those were quickly put to rest because soon, the administration and communities of many monasteries including Sera and Drepung made requests to him to become their abbot. Thus, Sonam Drakpa became the only person in history to serve as abbot of all three main Gelug monasteries, responsible for the education and training of tens of thousands of monks. No other person had the same honour before him, and no other person has had the same honour since.
Sonam Drakpa also served as His Holiness the 3rd Dalai Lama's tutor, giving him novice ordination vows and the name "Sonam", as well as numerous teachings and initiations, principally on Guhyasamaja, which was his own main practice.
In addition to the very busy life of public service that he led, and the countless teachings that he gave, Sonam Drakpa was also a prolific author. To this day, the commentaries he composed are still core texts in the traditional Gelug curriculum, used by monks training to become geshes themselves. It is one thing to read a text and learn from it how to achieve enlightenment; it is a whole other level to compose a text that guides people to enlightenment, something that can only be done if you have attained it yourself.
Hence, given his powerful scholarship, unsurpassed accomplishments, and the widespread influence and impact that Sonam Drakpa had on Buddhism throughout Tibet, it is unsurprising that the title "Panchen" was awarded to him. The word is a portmanteau of the Sanskrit-Tibetan hybrid phrase "Pandita Chenpo" which means "great scholar".
By the time this formidable scholar entered clear light in 1554, the result of his activities was clearly reflected in the calibre of his illustrious students — Panchen Sonam Drakpa counted amongst his disciples the 3rd Dalai Lama, as well as the 21st and 25th Gaden Tripas. He remained in clear light meditation (thukdam) for 15 days. During this time, his disciples performed extensive prayers and rituals before cremating their lama in the traditional fashion. Incredible relics, which were later interred in reliquary monuments, were observed in the ashes of their beloved teacher, a sign that an extraordinary being had passed.
It is impossible to accurately express the magnitude of Panchen Sonam Drakpa's contributions to the Buddhadharma. What can be said with confidence however, is that no one has come close to matching his achievements in the near-half millennia since his passing. Thus, the 76 years that sentient beings were blessed to have this leading example of Gelug brilliance living amongst them were, in essence, 76 years for the perfect and pure lineage of Lama Tsongkhapa to be preserved and proliferated for the centuries to come.
Watch Panchen Sonam Drakpa's story: