Guardian of Buddha's Words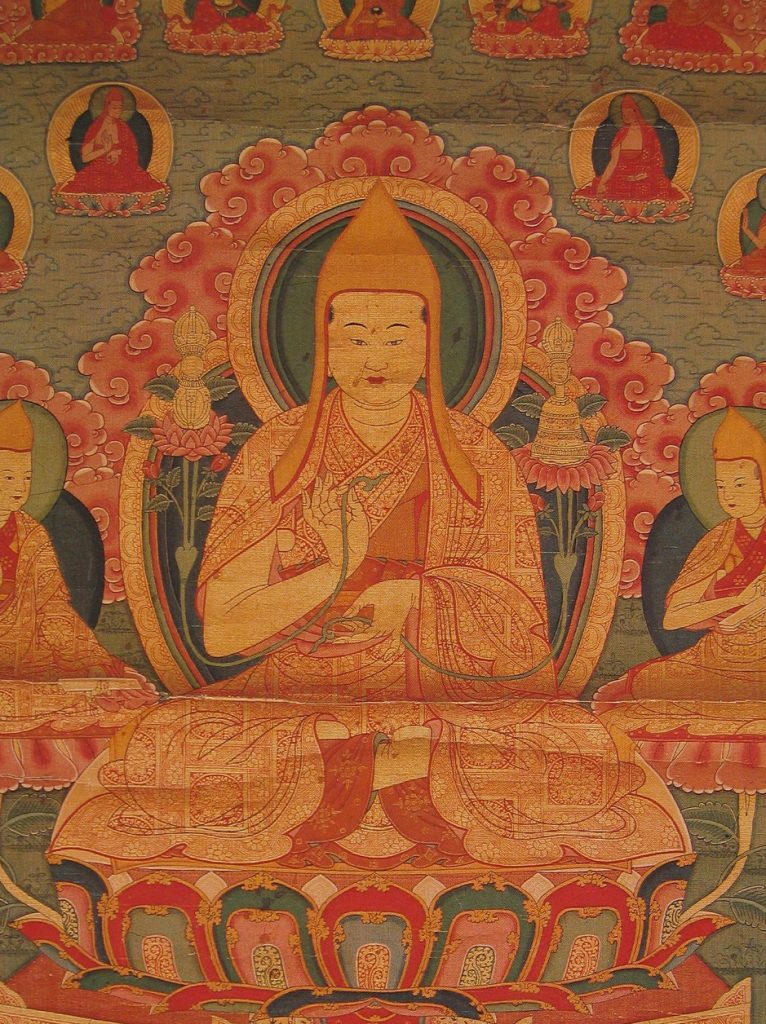 If some lamas were prolific authors and others were tireless teachers, there were yet others who were incredibly erudite scholars, whose works and activities were crucial to the survival and preservation of Buddhism in Tibet. However, few reached the unparalleled heights of Butön Rinchen Drub, who took on the task of compiling, organising and preserving Buddha Shakyamuni's teachings in Tibet.
Known by the epithet "Thamche Khyenpa" (literally meaning 'the Omniscient One'), Butön Rinchen Drub is especially revered throughout Tibet for having compiled the Kangyur collection that contains the Indian scriptures based on the spoken words of the Buddha, and the Tangyur collection that contains the Indian and Tibetan commentaries of these teachings. Though other attempts were made, his was the only one to survive to this day and it is the format that remains in use. And while he held many important tantric lineages, Butön Rinchen Drub is known mainly for proliferating the Kalachakra Tantra. He was also an avid patron of devotional art who commissioned many exquisite thangkas.
The omniscient Butön Rinchen Drub was born in 1290 CE in Tsang, Tibet. As with all great beings, his birth was heralded by auspicious omens including celestial music, bountiful harvests and budding flowers. His parents were prominent Nyingma lamas and his early education began under their guidance, starting first with his mother who taught him to read and write at the age of five or six with the memorisation of texts. Miraculously, he also spontaneously learned to read and write the cursive 'headless' script (umed) on his own.
Thereafter, Butön Rinchen Drub began to receive many teachings, practices and tantric initiations. When he was 18, he received his novice and root monastic vows, which he is said to have kept as carefully as one would protect one's own eyes. The next few years of his life were dedicated to intense study, scholarship and practice. He quickly surpassed the greatest scholars of the day and in time, his fame and reputation as a scholar grew exponentially.
After receiving his full ordination vows at the age of 23, Butön Rinchen Drub engaged in further extensive study before beginning his long and prolific teaching career, when it is said he focused on uprooting false and wicked views through his writings and reasoning.
In 1320, Butön Rinchen Drub ascended the throne of Zhalu Monastery, becoming its 11th abbot. With the support of wealthy patrons, he engaged in enormous projects to improve Zhalu, principally with the construction of new stupas and temples. He was also an innovator and at Zhalu, he championed the study of philosophy based on the Sutras and the Tantras that were growing roots in Tibet. He even built a college just for this purpose. His greatest deeds however, were still yet to come.
Butön Rinchen Drub is said to have established the Kangyur and Tangyur in the format that they are known today. Prior to that, beginning from the 7th Century, texts and scriptures were brought from India to Tibet to be translated. However, there were no formalised collections that could rightfully be regarded as definitive Buddhist canons.
There was a collection of translated manuscripts compiled at Narthang Monastery, commonly known as "Old Narthang". This collection, established in the early 14th Century, represented the first attempt to separate and distinguish the scriptures as the Kangyur and the Tangyur. However, this Old Narthang edition, which is no longer extant, was simply a compilation of existing translations and texts. The translations were not improved on, nor were there efforts to include missing texts.
With Butön Rinchen Drub, this was to change dramatically. Under his leadership, a group of Zhalu scholars and scribes successfully compiled the Kangyur and Tangyur collections, translated missing texts and corrected inaccurate translations throughout numerous manuscripts.
It should be noted that aside from Butön Rinchen Drub and Narthang Monastery, there was one other attempt to compile the Kangyur and Tangyur in Tibet, conducted at Tsel Gungtang Monastery. Like the Old Narthang edition however, the Gungtang collection is no longer extant and Butön Rinchen Drub's effort is the only one that has survived to this day. His work to preserve the Kangyur and Tangyur was especially crucial because by this time, Nalanda and the other great monastic institutions of India had been ransacked. With the original source of the teachings and lineages now destroyed, Butön Rinchen Drub realised all that was left to perpetuate the Buddha's teachings were these great treatises he had preserved.
In the twilight of his life, Butön Rinchen Drub continued to give teachings at a phenomenal rate. He also continued to compose prolifically and to give teachings on the construction of mandalas and on astrology, amongst others. His disciples were regularly reminded to master the teachings, citing that after their teacher's passing they would have no proper authority to consult on such matters. And that time would come in early 1364, when Butön Rinchen Drub manifested illness, went into retreat and entered clear light soon after.
If not for Butön Rinchen Drub's extensive activities to preserve the Dharma, there is a very high probability that the many precious teachings and practices we have with us today would not exist. His monumental efforts therefore, cannot be overstated, in light of the countless sentient beings who have gone on to benefit from his tremendous legacy.
Watch Butön Rinchen Drub's story: